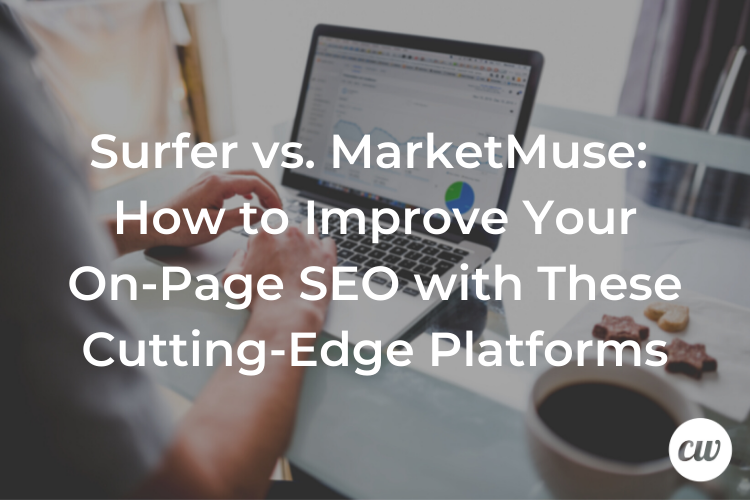 Surfer vs. MarketMuse: How to Improve Your On-Page SEO with These Cutting-Edge Platforms
The growth of semantically related keywords, or keywords that provide context surrounding your primary keyword, has led to a new line of Search Engine Optimization (SEO) software. Platforms like MarketMuse, Surfer, and others enable SEO experts and writers alike to find the best keywords and craft content using semantically related keywords.
Of course, keywords are only a small portion of SEO. Software platforms like MarketMuse and Surfer also analyze competitors' articles so you can deliver even better content. While they aren't as robust when digging into the nitty-gritty of SEO as SEMRush and Moz software, these platforms can help tremendously with on-page SEO and SEO strategy.
Keep reading to learn which of these platforms are the better value for your money and your time?

Overview: Surfer
Surfer, sometimes called SurferSEO as a reference to its domain name, analyzes your search engine results pages and those of your competitors to deliver data-driven, actionable insights you can use when planning content and writing.
Surfer's features fall into different buckets:
SERP Analyzer
Content Editor
Keyword Research
SEO Audit
Keyword Surfer, a free SEO extension for Google Chrome that helps you do keyword research within the search engine
The SERP Analyzer helps you lay out a blueprint to create high-performing content by analyzing 500+ factors on 50 competitive pages.
You'll find out the best length for your article or landing page, how many headings you should include, keyword density, and more.
The Content Editor brings it all together, showing exactly how you should implement the data revealed in the analyzer. The interactive editor can also serve as a lightweight project manager where you can share the scope of work and deadlines with writers.
Pricing: Surfer
Surfer offers 6 packages, although they emphasize the three middle packages on their website.
Hobby: $24.20/month
Basic: $49.20/month
Pro: $82.50/month
Business: $165.80/month
Business+: $541.70
There is also a Custom plan available for enterprise-level organizations who require more than the Business+ plan provides.
You can save 20% on any of the packages with an annual plan.
The differences between them include the number of SERP queries permitted per day (5 v. 15 v. 50 v. 100 v. 300), the number of articles you can run through the content editor (5 v. 25 v. 100 v. 300 v. 600), and the number of backlinks & visibility reports you can run (5 v. 25 v. 100 v. 300 v. 600).
The Pro, Business, and Business+ plans also add a Natural Language Processing (NLP) analysis to determine page sentiment. Business and Business+ plans enable you to create white-label reports for clients, too, while also enjoying live chat support and training on-demand.
Final Analysis: Surfer
Intuitive and easy-to-use from the writer and SEO marketer's perspective, Surfer makes creating content feel a little bit like a game. Watch the meter in the Content Editor go from red to green as you use the right keywords in the correct frequency, add headings, backlinks, and photos, and break your content into easy-to-read paragraphs.
The scalable program takes the guesswork out of content planning by looking at all the elements of SEO as a cohesive whole. You could perform content analysis manually, test your content, and revise it. But using the program saves time. If you're a content marketer, it also helps you clarify your expectations to writers so they can create content that can rank well on SERPs while engaging readers.
Writers need to remember to create clear, engaging copy and make sure the keywords fit naturally within the article. Sometimes, their judgment will have to override the software – especially when the Content Editor makes irrelevant or awkward suggestions.
Surfer does not take the human element out of writing for the Web; it provides a roadmap for writers to ensure they're relying on semantically related keywords to convey information. Through its keyword suggestions, it may also spark ideas or topics to cover within the article.

Overview: MarketMuse
MarketMuse is an "AI Content Intelligence and Strategy Platform" that generates complete content briefs that include word counts, subheads, internal links, external links, and, of course, keywords. In the future, the software may be able to use Natural Language Generation to create content that needs only light human editing.
The "Personalized Difficulty Score" given to each completed article assesses how well you've covered the topic compared to competitors. The number gives writers something to aim for as they strive to create the best content in a subject area.
MarketMuse divides its services into multiple applications.
The services include:
Content Research
Content Strategy
Content Creation
Content Optimization
Content research includes competitive analysis and an inventory of the content and topics covered on your site. Strategy delivers personalized metrics to help you find opportunities to create high-performing pages.
Content creation delivers writer briefs that offer a comprehensive, detailed outline based on keywords, subheads, questions that readers may ask, and recommended internal and external links to support the link-building aspects of SEO.
Content optimization, the final piece of the puzzle, delivers a score that shows how well your final draft may stack up against the competition.
Pricing: MarketMuse
MarketMuse offers four packages, plus the opportunity to purchase "credits" that allow you to buy a variety of reports, from a content brief to an SEO evaluation. You also receive credits with the three higher tier packages. The upper-tier represents an enterprise-level plan with opportunities for customization.
Pricing is as follows:
Optimize: $79
Plus: $179
Pro: $499
Premium: $1,499+
MarketMuse prices start much higher than Surfer's, but, overall, the program's higher packages are more robust. MarketMuse states that its entry-level package, Optimize, is the most popular. This starter application only includes the Optimize Text Editor and 25 queries per month.
Step up to the Plus plan, and you'll receive all four applications listed above, 50 queries per month, 500 inventoried pages, and 5 credits per year.
The Pro plan increases your queries to 100 per month and gives you 12 annual credits.
Lastly, the premium package can be customized to meet your needs with unlimited queries, full website inventories, and 60 or more credits included.
Final Analysis: Surfer vs. MarketMuse
MarketMuse is the more robust software choice if you're looking to create content that practically writes itself.
In real-world use, MarketMuse seems to be more accurate in its keyword generation, providing fewer irrelevant or awkwardly phrased keywords. The outline gives writers a clear roadmap of how their content should look to garner better SEO performance, including providing the best headlines and subheads for your topic.
Surfer's beauty is the low price point and its simplicity of use. Agencies, SEOs, and content writers can all benefit from the affordable monthly plan to ensure they're using the best keywords to get their content ranking on Google.
Of course, either tool will only be as good as the writers who create the content. These platforms serve as guides for planning content and including relevant keywords, backlinks, and topics in your articles. It's the writer's behind the work that brings your marketing efforts to life.
займ 100000 без процентов


Dawn A. is a full-time freelance writer, editor, and social media marketing consultant with close to 20 years of experience writing for print and online. A former magazine editor, Dawn specializes in creating content to help business owners generate leads and enhance brand recognition. She writes about a broad range of topics, from personal finance and parenting to technology, HR, and finance.