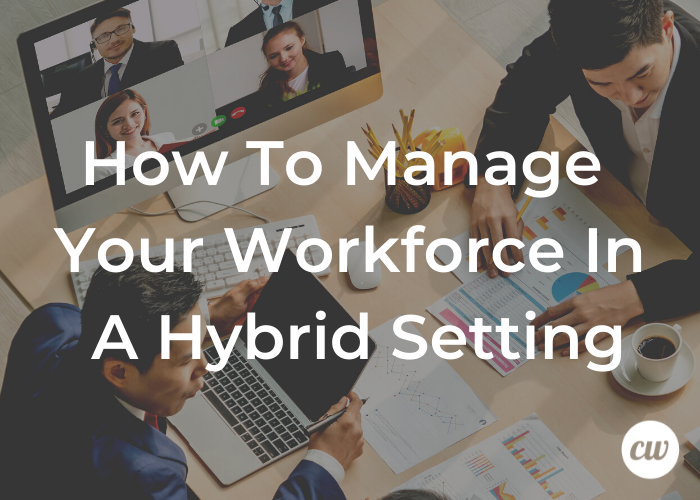 How To Manage Your Workforce In A Hybrid Setting
The global coronavirus pandemic forced roughly 44% of U.S. employees to work from home, compared to just 19% of the workforce pre-pandemic, according to Statista. As workplaces open up again, people have realized the benefits of remote work and there might be no turning back.
A recent survey from the anonymous professional network Blind discovered that 64% of employees would rather continue working from home than get a $30,000 raise.
However, many employers are hesitant to maintain a 100% remote workforce and some companies rescinded their work-from-home policies altogether as Covid-19 vaccines became more widespread and the pandemic began to wane.
Many workers also fear that remote work could be bad for their career path, causing them to miss out on opportunities in-office workers may have.
For many businesses, the answer is a hybrid workforce, where employees spend a portion of their time in the office and the rest working remotely. In a study done by Citrix of millennial and Gen-Z employees, 61% said they preferred a hybrid arrangement.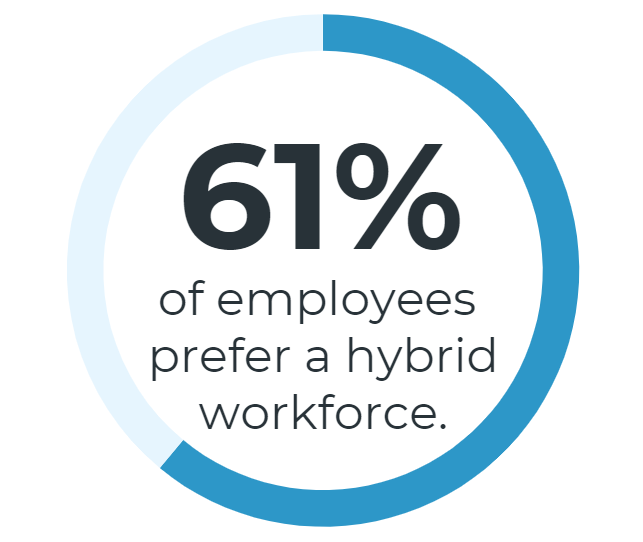 A hybrid workforce can present new challenges to employers and human resources professionals seeking to keep all employees engaged, motivated, and connected. Whatever type of company you run, these tips can help you manage workers wherever they might be.
Set Clear Guidelines and Expectations for Flex-time and Remote Work
It's one thing to permit remote work or flexible hours. But it's another to actually manage employee needs and expectations. Inconsistent rules can lead to workplace resentment and can damage employee engagement and morale.
If you are making exceptions for certain workers – for instance, permitting a work-from-home parent to miss in-person Wednesday morning touch base meetings during the summer – explain without getting into personal details that different employees have various arrangements.
Remote work doesn't always mean "flex-time," although it may. If you expect employees to maintain set office hours, be specific about this. Whatever the rules or working hours, make sure every employee understands what's expected of them, specifically.
Be Mindful of Time Zones
Many people moved to different regions during the pandemic but continued working for the same company. When you're setting meeting times, be mindful of employees in different time zones. A 9 AM EST meeting on Mondays may work for your East Coast employees, but West Coast workers may not be at their best if it's 6 AM their time. Likewise, a 4 PM West Coast meeting could cut into East Coast employees' dinner time.
If you're working with employees across the world, you may have to plan multiple meetings to accommodate schedules.
Touch Base Through Multiple Channels
Businesses that fail to successfully manage remote work often cite a lack of communication and lack of engagement as the reason. Today's technology gives us many ways to stay connected, including chat-based messenger apps, project management platforms, phone, video calls, and, of course, email.
Choose the right means of communication for the right message. For instance, if you want to create a virtual paper trail that's easy to refer back to, a good old email might be the best tool.
For quick questions, messenger apps may work best. A quick phone call can often help sort things out without confusion, while also helping employees feel more connected.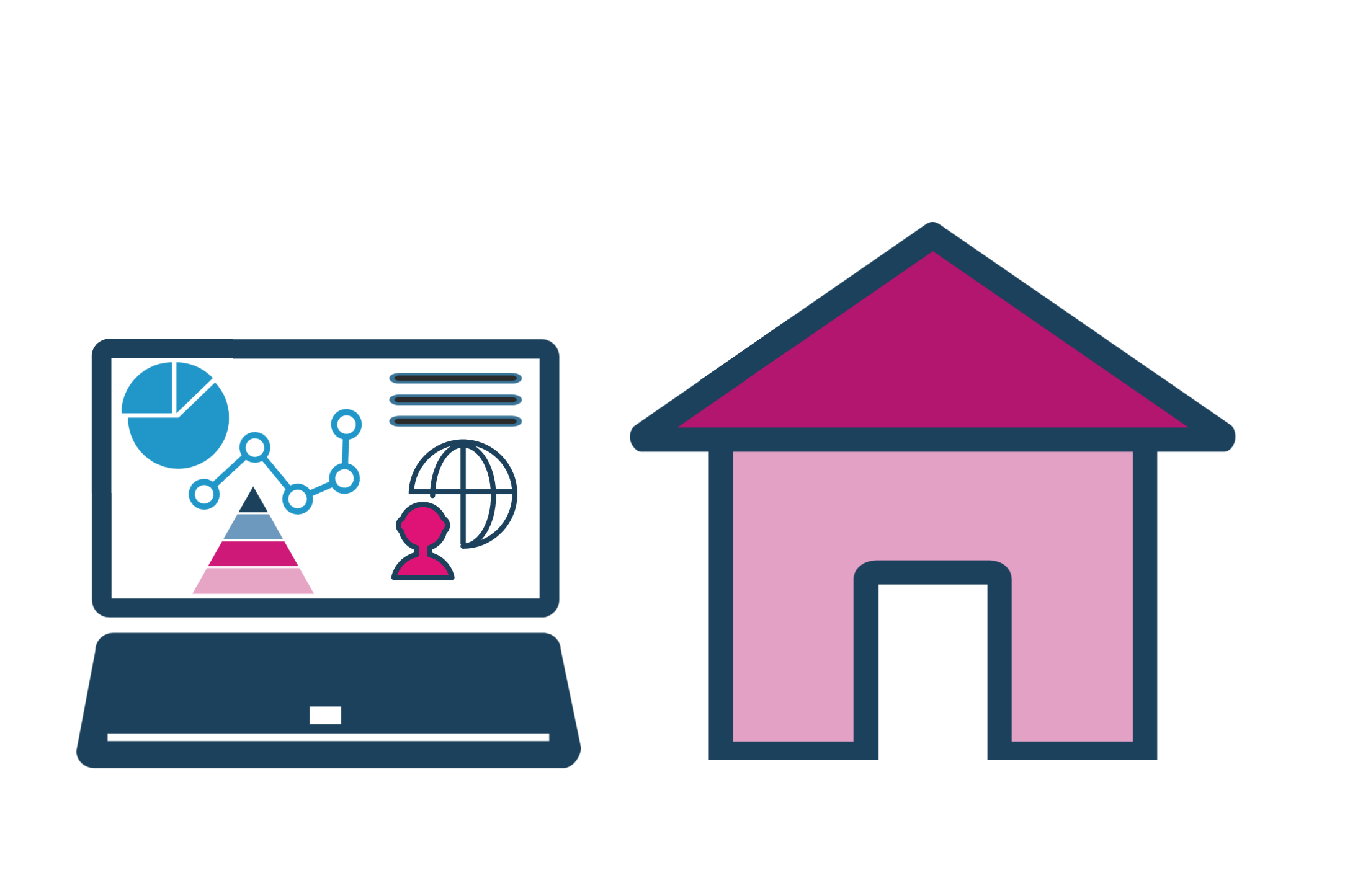 Host Virtual (or Real Life) Happy Hours and Events to Stay Connected
Another survey of 6,000 white-collar workers across Europe found that 60% miss being able to meet their co-workers in an office setting. Hosting weekly, casual happy hours via video conference, or even scheduling real-life meetups for local employees can help people feel more connected on a personal level.
If your remote workers live in different regions, you could plan a quarterly corporate event to bring everyone together for team-building and camaraderie.
Consider a Company Newsletter to Spotlight Accomplishments
One fear for remote workers is that their accomplishments won't be recognized by their colleagues, peers, or supervisors.
A company newsletter that recognizes successful projects, praises productive employees, and keeps everyone up to date on what's going on within your organization can help.
You might publish a weekly employee spotlight that showcases how your most successful employees are balancing remote work and family life, tackling projects, or using technology to their benefit.
You can also use the newsletter to share new products or services, upcoming changes within your organization, or monthly or quarterly goals to encourage and inspire workers.
Adapting to a World of Hybrid Work
ContentWriters.com has always managed a highly productive team of remote writers and editors to serve clients across the world. Throughout the pandemic, we leveraged technology to keep our teams in touch and continue to use a variety of tools to better serve the companies who rely on us for content to generate leads, create conversions, boost SEO, and even improve employee engagement.
Reach out to see how we can help you stay connected to your workforce and your customers.
потребительский кредит где взять


Dawn A. is a full-time freelance writer, editor, and social media marketing consultant with close to 20 years of experience writing for print and online. A former magazine editor, Dawn specializes in creating content to help business owners generate leads and enhance brand recognition. She writes about a broad range of topics, from personal finance and parenting to technology, HR, and finance.