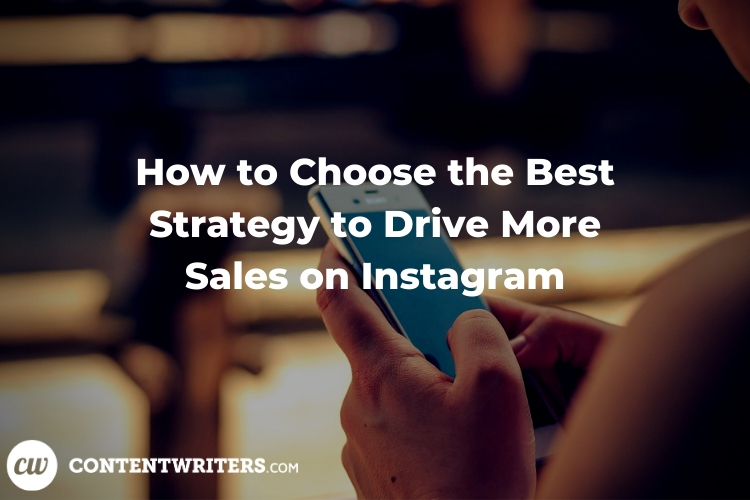 How to Choose the Best Strategy to Drive More Sales on Instagram
Over the last several years, Instagram has cemented itself as a phenomenal platform for companies and brands in search of new ways to attract more sales. You can connect with any of the one billion users on Instagram, and they could become your next customer. But how do you do it? How do you leverage your company's Instagram account in such a way that it brings in new followers and converts them into paying customers? We'll show you how with the following strategies.
Instagram is all about images. Like its predecessors Facebook and Youtube, Instagram is no longer just a social media app for people to post cat videos and selfies. It has become a competitive playing field for businesses to continue growing their brand presence, boosting exposure, and attracting a larger audience.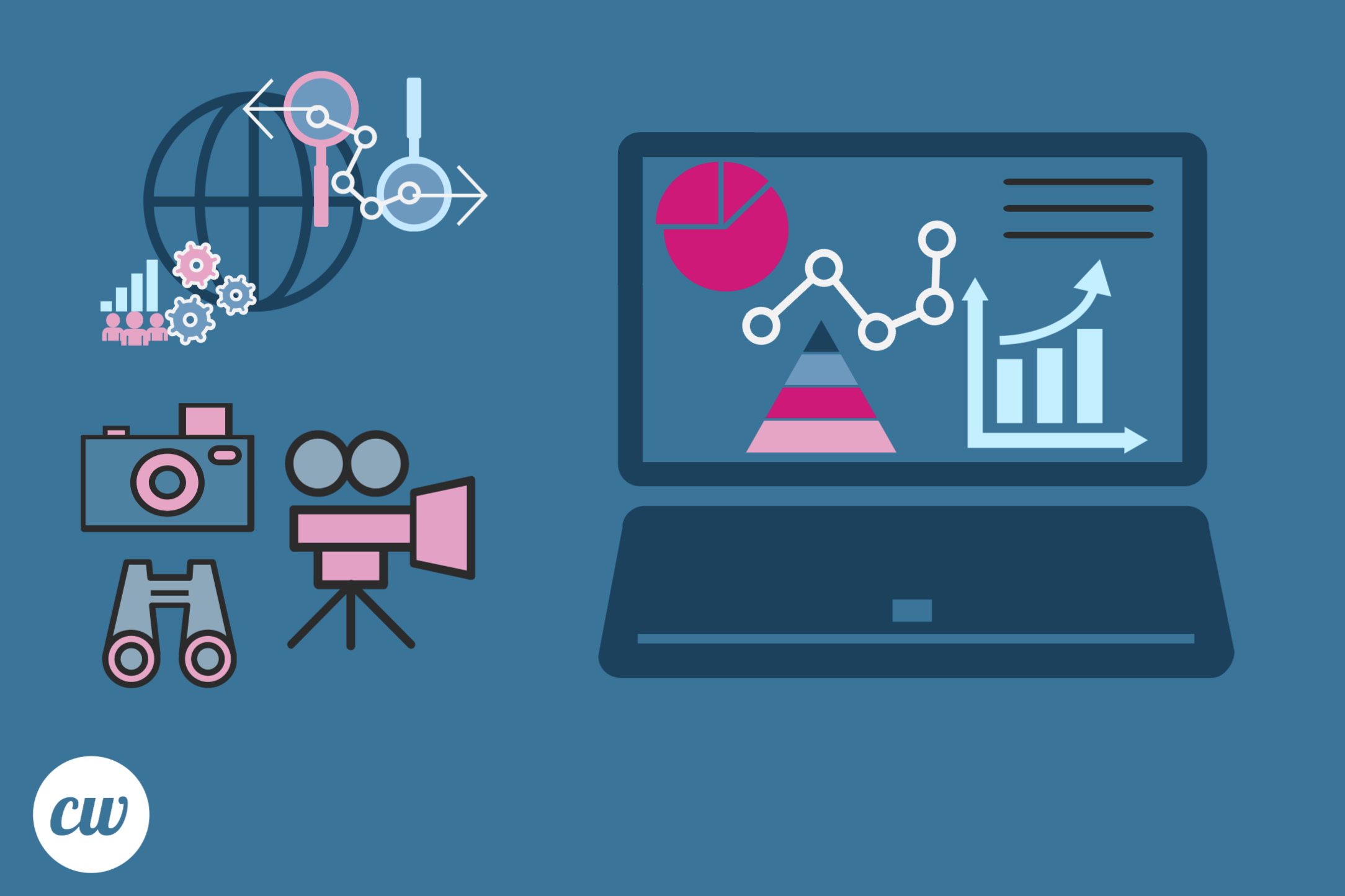 The images you put up on your company's Instagram account will tell a lot about your company. Make sure each photo is in line with your brand and marketing objectives. You want the photos to be compelling, attractive, professional, and eye-catching. They should invoke interest. Take the time to research the Instagram accounts of major brands, including active wear companies, fast food restaurants, makeup brands, and travel sites.
Low-resolution images will be the death of your Instagram account and will damage your brand identity. Always invest in high-resolution, high quality images, whether you pull them off royalty-free image websites or hire a professional photographer to take your photos.
Commonsense marketing strategies still apply to Instagram marketing. You won't be able to garner new sales if you don't know who you're after. Are you a women's activewear clothing company? What age range of women is your target demographic? Take the time to sit down and write out who your ideal customer is. What is her lifestyle like? What does she wear? What does she eat? Where does she live? What are her hobbies? Don't scrimp on the details. Once you have a firm grasp on who makes up your target demographic, you can begin to market to them on Instagram. And more importantly, you can start curating your content based on what you know they enjoy seeing.
Only after you have defined your target audience can you begin to use hashtags effectively. Let's stick with the example of a women's activewear clothing company. If you're targeting athletic, health-conscious women in their 20s and 30s, use hashtags like "#wellness," "#healthy," "#fitness", "#gymlife" and so on. Study the most popular hashtags used in regards to topics like fitness, health, and wellness, and implement them strategically in every post. When you use hashtags, other Instagram users can discover your account, thus leading to new followers and potential customers.
The first thing your Instagram followers will see is your photo. If you've retained their interest well enough, the second thing they'll see is what you have to say. Make sure you are able to say something that is equally as compelling as the photo. It's best not to write paragraphs, but something that is pithy yet interesting enough to keep followers coming back for more.
Obviously, you'll need to write something that is related to the photo you posted. If you're having trouble wording something just the right way or coming up with content that will engage your Instagram followers, consider recruiting the services of a professional copywriter. They will take the time to intimately understand your company, mission, and brand and write content based on your needs.
This is another commonsense marketing principle that rings true on Instagram. Don't bombard your followers with a barrage of blatant advertisement. Don't constantly try to sell. Don't ask them to buy your product, give them reasons why they would want to. Use Instagram as a platform to show the human element of your company. Connect with your audience. Write something meaningful. Upload powerful images. Provide real value to your followers and establish a reputation of trust along with your brand.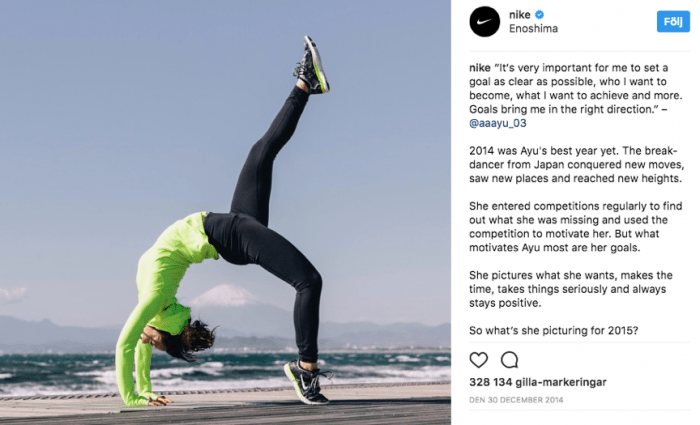 Nike is an example of a brand that does this well. They use interesting posts to highlight and tell stories of inspiring, extraordinary athletes. Brainstorm different ways you can use Instagram to create content that will stick in the minds of your followers. Come up with concepts that sell a lifestyle and not solely a product.
Interact with your followers and even Instagram users who aren't following you yet. When someone posts a comment on your photo, like it and respond. When someone sends you a direct message, respond promptly. Additionally, venture into uncharted territory by looking up hashtags and liking photos and comments of Instagram users who might be interested in your brand.
If a picture is worth a thousand words, then what's a video worth? Create video content that shows your products in action. If you sell ingredients, create a recipe video showing how they are used to make a delicious meal. Tasty does a tremendous job of this. If you're selling health supplements, interview real customers who use them and have them share their testimony of using the product. More can be said through demonstration than through obvious sales pitches.
If you're already using video for your Instagram account, great. Don't hesitate to start using video content even more. If you're not implementing video, start as soon as possible. People are very visual creatures who like to be simultaneously informed and entertained. Use video to send a message in a way that attracts and retains the attention of your followers.


Like photos, the quality of your video content cannot be poor. Invest in a professional videographer and editor. It makes all the difference. However, if you are doing a live stream or uploading video content to your stories, you have a little more leeway to record on an iPhone or other device. This creates a rawness that is compelling and shows off the human side of your brand.
The third tried-and-true advertising tactic that can be used on Instagram is this: give away free stuff. Obviously, you can't do it all the time, but come up with a plan to offer discounts throughout certain times of the year or run contests that could lead to followers getting a free gift of one of your products.
People like free stuff. No matter how technologically advanced or intellectually evolved we become, that truism will never change. If a potential customer has been on the fence about trying one of your products, doing a giveaway could be the chance to give them that final nudge. After a person has tried something without having to make a monetary investment, they will be more inclined to buy your product the next time.
If you align with an influencer, you'll have a built-in audience ready to go. Many influencers have anywhere from several hundred thousand followers to millions. Whether you know an influencer already or need to establish a relationship with one, it's always beneficial to have one on your side. They can share a post about how they use your product and provide you with a substantial reach, targeting many followers who could convert to new sales. It's a good idea to throw in a promo code and have a discount offer going at the time an influencer makes a post about your product.
With some influencers, their followers may want to try your product solely because they see said influencer using it. In other case, followers may need a bit more convincing. In these instances, strategic placement comes into play. Kombucha does a good job of this. Instead of having an influencer showing off a bottle of Kombucha in hand and a bright smile stamped on their face in the photo above a long-winded caption, they take a more subtle approach. They had an influencer place a bottle of Kombucha on the side of a photo with a delicious, colorful salad at the center of the image. It's a little subliminal and it's definitely subtle. People have a preference for things that are less "in-your-face" and more laid back.
Ready to reinvent your Instagram account with these tactics and attract more sales? Think you might need help with your social media marketing campaign? Don't hesitate to reach out to the team at Content Writers today!


Freedom is an award-winning writer and marketer. In her current role as a B2B digital marketing specialist. Her writing has appeared in global publications including The Independent (UK), Huffington Post (USA), The Telegraph (UK), The Chicago Sun-Times, The Los Angeles Times, The Jerusalem Post, and more.