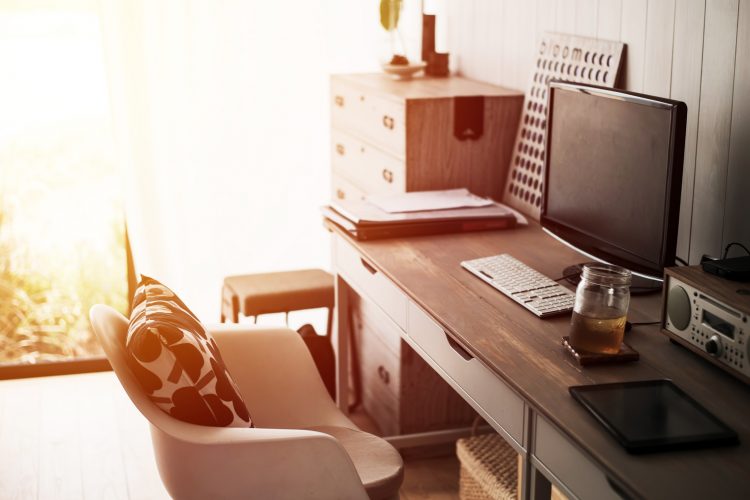 Four Tips for Making Your Home Office a Writer's Paradise
Life as a freelance writer can go one of two ways: Either you're always on top of your work or you get distracted throughout your workday and turn in your work five minutes after the deadline.
Yikes.
If you want clients to take you seriously, the first step is to take yourself seriously. Working from a heavenly home office may help. Here are some tips to make yours a writer's paradise.
Tip 1: Open Those Curtains
Let a little sunshine in. Natural light is best for productivity. In fact, Buffer app said dim light and too much artificial light can make a person sleepy and stressed out. The sun's rays, on the other hand, have been found to help people focus better because they feel more energized. In fact, researchers have reported that nature hikes may improve imagination. The problem is that you can't really set up shop outdoors because the weather and bugs tend to interfere. Opening your windows can help you feel more in touch with the natural world, however.
Tip 2: Find Your Outer Inspiration and Decorate the Office with It
Writers find inspiration in different things. For you, it may be books, the beach, or your favorite band. Whatever motivates you, surround yourself with it. Okay, maybe you can't surround yourself with the beach, but you can keep a jar of seawater on your desk. When you need a little inspiration, take a whiff. Or decorate your office in a beach theme, so you always feel like you're in your element. If you're into music, get that retro record player you've been eyeing down at the consignment shop. Whatever it takes to get you inspired to write your best material, do it.
Tip 3: Remove All Distractions
Yes, that includes the TV and those oh-so-adorable photos of the ex that you're still trying to win back.
Tip 4: Get a Great Chair
If you're going to spend countless hours writing, one piece of office equipment stands above all else: The office chair. It should be soft enough that you won't suffer from bedsores by the end of the day and firm enough that you won't fall asleep before you've finished your masterpiece.
No matter how you choose to spruce up your office, you need things to write. If you're ready to launch your writing career but don't know how, apply to be a writer with ContentWriters today. We're always looking for talented writers to deliver top notch content to our clients.


When she's not watching New Girl, you'll probably find Allison with a notepad in hand. She's always writing. Heck, she even went to school for it and came out with a Bachelor of Science in English. Thanks, Towson University!
When Allison's not writing, you'll probably find her somewhere near a kitchen. She is a cooking fiend. Or she might be out discovering hidden restaurant gems (yaaasss Whisk). Speaking of food, her favorite pastime is feeding peanut butter to Peggy the pug.
A few brands she's worked with include Subway Restaurants, Dr Pepper, Cold Stone, Virtru, Boca Terry, and maybe your brand in the near future, too?