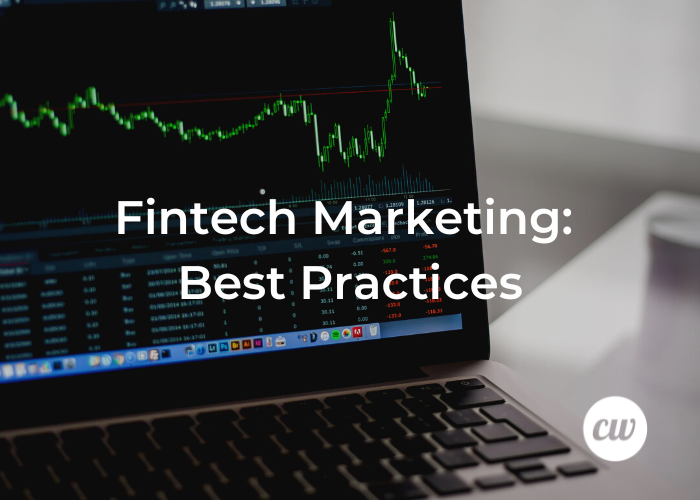 Fintech Marketing: Best Practices
As more companies enter the fintech space, competition is on the rise. It's not enough to have an outstanding fintech app. You have to attract and retain customers in an increasingly saturated space.
On the one hand, fintech utilization has never been stronger. About 65% of Americans use digital banking, a number that has been steadily rising. In 2021, there were 5.22 billion unique mobile banking users globally, with Bank of America leading the industry with 30 million.
On the other hand, the cost of acquiring new customers is on the rise. Many digital startups offer enticing discounts or promotions to bring people on board, but when the offer is fulfilled, those users can lose momentum or be enticed by competitors. In 2020, finance companies lost an average of about $80,000 per month on uninstallers.
With the right fintech marketing strategies, companies can reduce the cost of acquiring customers while increasing the customer's lifetime value. So, how can fintech companies stand out from the crowd to win and retain loyal customers?
How Do You Promote Fintech?
Here are eight fintech marketing strategies to help your fintech app rise to the top.
1. Facilitate Engagement Through Personalization
Due to the complex relationship many people have with money and finances, personalization in fintech has higher stakes than in other marketing and sales arenas. Software that can present relevant and tailor-made options to consumers when they need them builds increased engagement and builds on existing relationships.
Personalization requires in-depth knowledge of your audience's personas and thoughtful, targeted messaging.
Personalization may include:
Custom-made product recommendations based on behaviors or life changes
Promotional offers
Financial tips, education, or management
2. Use Influencers to Gain Visibility
Influencers have large followings that trust them. You can tap into these pre-existing and prepped audiences by delivering meaningful messages. The more you can work within the framework of an influencer and deliver value to their audience, the louder your message will resonate.
Working with influencers is about building relationships, both with the institutions and people who already have sizable followings and also with the communities they have developed. There are several ways to work with influencers as a fintech company, including:
Partnering to create premium content
Podcast interviews
Special educational workshops
3. Affiliate Programs and Referral Commissions
Affiliate programs and referral commissions are another way to leverage existing audiences. In this case, instead of providing content and education, you offer an affiliate commission to influencers who drive sales to your app.
Affiliate programs are a way to gain some traction in the marketplace quickly without the upfront costs of ads. You are leveraging other people's existing audiences to gain exposure for your brand.
Here's an example: Coinbase. Coinbase started by paying a $10 commission to both the referee and the referrer when a new client bought or sold at least $100 of crypto in the first 180 days the account was opened. This initial offer attracted bloggers, influencers, and word-of-mouth referrals. As their business and funding grew, Coinbase increased its referral commission which increased affiliate interest and widened its influence.


4. Build Organic Traffic with Content Marketing
An inevitable part of fintech marketing is education, which makes content marketing a match made in heaven. Content marketing is cost-effective, positions a fintech company as a thought leader, helps answer consumer questions, and educates potential customers on why they need the service and how it can help them.
The long-term benefits of content marketing include a steady stream of organic SEO traffic and ongoing visibility. It builds relationships, establishes authority and trust, and makes it easier for consumers to find you when they are looking for the solutions you offer.
In fintech, the key to content marketing is to make complex topics accessible and engaging. The Canadian investment app Wealthsimple does a great job of this with its magazine. Instead of the standard dry educational content, Wealthsimple tells stories using real-life examples. They interview celebrities and ordinary people, putting their financial lives and experiences in the broader context of their lives.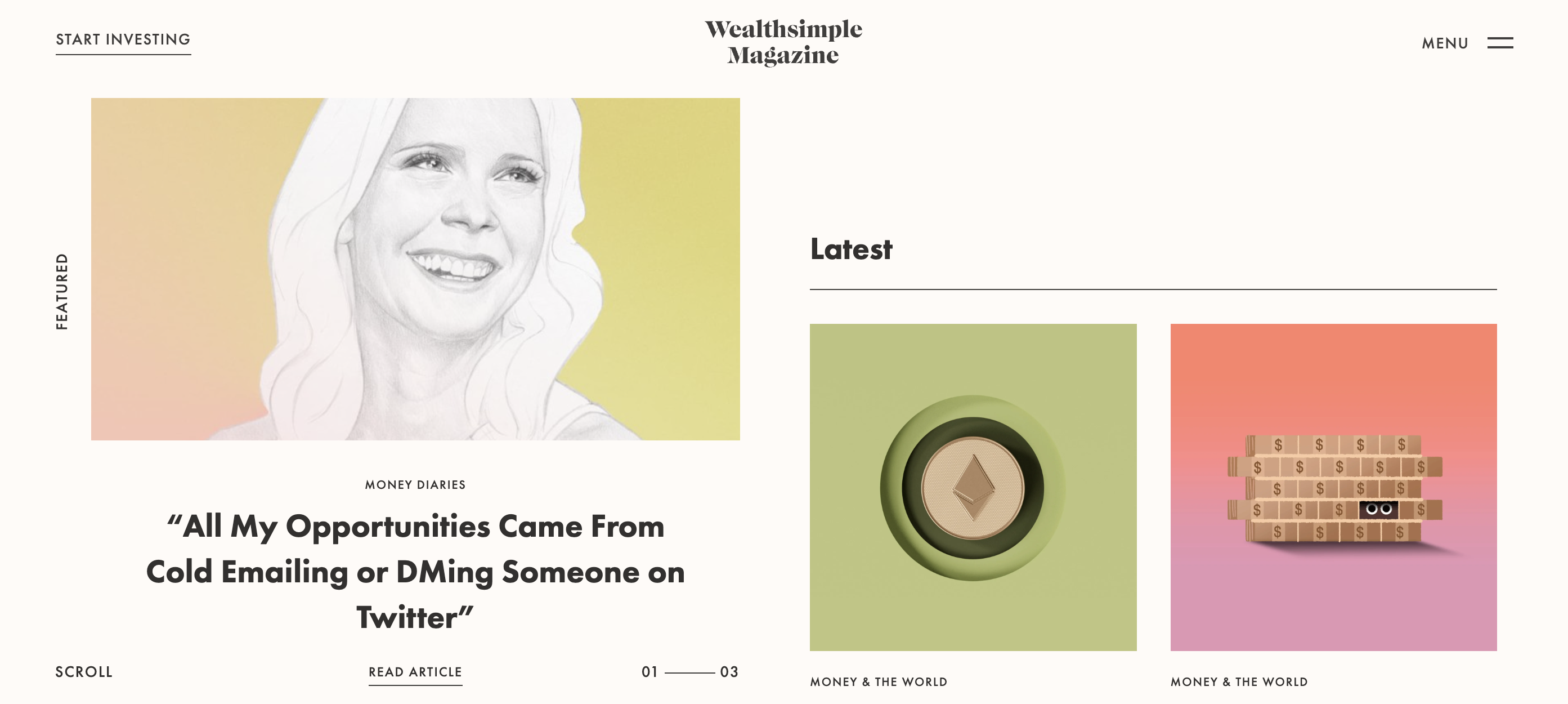 Another effective example of content marketing is SoFi, the banking app. Its resources center provides blogs, videos, and calculators to help consumers answer financial questions.
In both cases, these fintech's unique approach to content marketing keeps people coming back to their sites. It helps them stand out from the crowd and builds trust and awareness. Regardless of your content marketing approach, you will want to pair it with a strong SEO strategy.
What Is SEO in Fintech?
Fintech SEO creates a flow of organic traffic to your website. It is an opportunity to gain visibility in your niche and connect with your audience during each phase of their buying cycle, from awareness to purchase.
The key to SEO in fintech is to develop comprehensive content that answers the questions buyers ask as they search for the solutions you offer. The more you understand your customers, their questions, their pain points, and the solutions they want, the more effective your fintech SEO can be.
5. Maximize the Mobile Experience
It's hard to beat the convenience and on-the-go access of mobile devices, and the percentage of web traffic from mobile devices increases every year. As a fintech company, you likely have a mobile-friendly website and a downloadable app for your products and services; but do you maximize the mobile experience for marketing and communications?
Here are a few ways to maximize mobile marketing:
Increase ways to interact with your brand
Make your contact information visible, and consider click-to-call if you take customer service phone calls
Make sure forms, including payment, are easy to use on mobile devices
Prioritize sales and special offers
6. Don't Forget Social Proof
People may take your marketing claims with a grain of salt, but the same message from a past customer carries more weight. Create a systematic way to get testimonials from your customers if you don't already have one.
Republishing reviews that were given through Google or a social media platform might be better than simply adding customer feedback to your website. However, any positive customer testimonials add credibility to your brand.
If you happen to get a negative review on a public platform, don't despair! You still build credibility with your audience by responding promptly and calmly and helping to resolve the problem.
7. Leverage Partnership Marketing
Partnership marketing is different than affiliate marketing because you partner with other businesses to expand the reach of your brand. Partner marketing includes allowing other businesses to license your software or some part of your business, co-branding, product placements, sponsorships, joint ventures, and more.
In partnership marketing, you collaborate with a business or brand that is already established with a market segment you'd like to reach. For example, the cryptocurrency phenomenon Ripple used partnership marketing to build awareness and bring in new customers. Ripple provided settlement and cryptocurrency solutions that complement existing banking and payment services. They collaborated with established finance and banking players and managed to secure relationships with big players, including American Express.
8. Gamify and Engage
Particularly if your target market is Millennials and Gen Z, gamification can elevate your brand. You bring familiar elements to young people who grew up playing games and add a competitive element to the process. This engages people and makes an often dry subject, like finance, more fun.
The challenge is to create marketing strategies that engage users in a fun and interesting way without undermining the credibility of your brand or appearing gimmicky. A few gamification ideas for fintech include:
Reward tokens for setting and achieving financial goals
Interactive challenges to improve financial literacy
Contests with prizes
Reward points or benefits for referrals
Reward points or benefits for completed purchases or transaction
Build a community where users can play interactive games and chat
Quizzes, puzzles, and games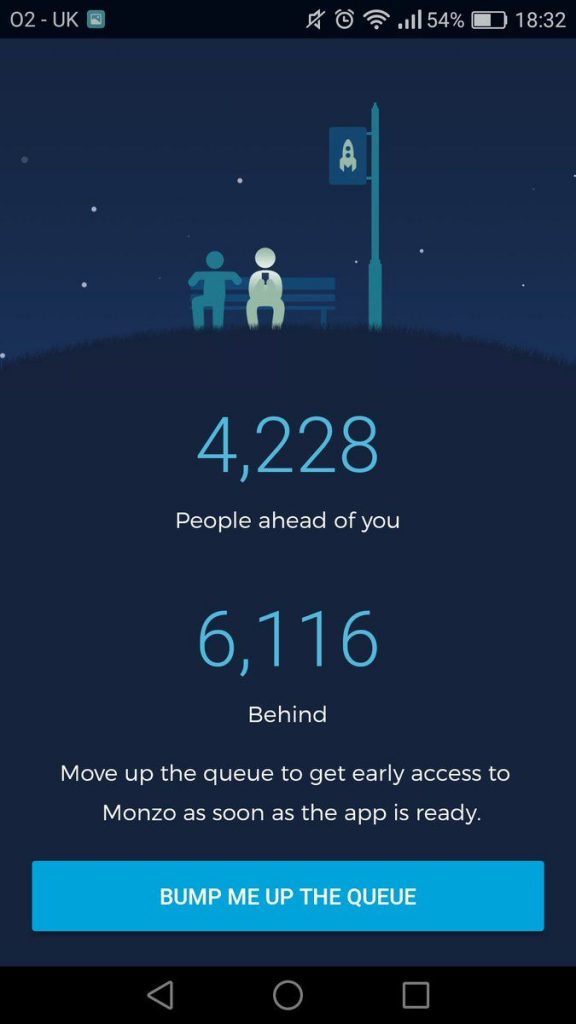 One successful use of gamification was in Monzo's pre-launch campaign. In the UK, Monzo is one of the most successful retail challenger banks. They created a buzz and got people talking about them by introducing a waiting list.
When Monzo launched their banking app, users could download it but were added to a waiting list. The only way to move up the line was to refer a friend to the product.
While this may seem counterintuitive because Monzo added an extra step before interested users could access the app, the waiting list made people curious and gave an impression of exclusivity. People couldn't wait to get in, and referred friends and family to make it happen.
Win and Retain Customers With Fintech Marketing
Fintech companies have two notable hurdles to overcome. First, the space is increasingly saturated. Second, most people have relatively little information about and interest in finances.
Fintech marketing is an opportunity to turn these two challenges into opportunities. How do you stand out? What makes your offering special? When you find your niche in the space, you can carve out a territory and dominate it.
You also have outstanding opportunities to access content and education as well as put your company's personality on display with a unique, fun, or interesting approach to finance.
If you'd like help with SEO-optimized content, ContentWriters is here to help


Joan Weisman's strong research skills, SEO knowledge, adaptability of style and voice, and passion for staying current make her an asset for freelance web content, SEO, and copywriting.