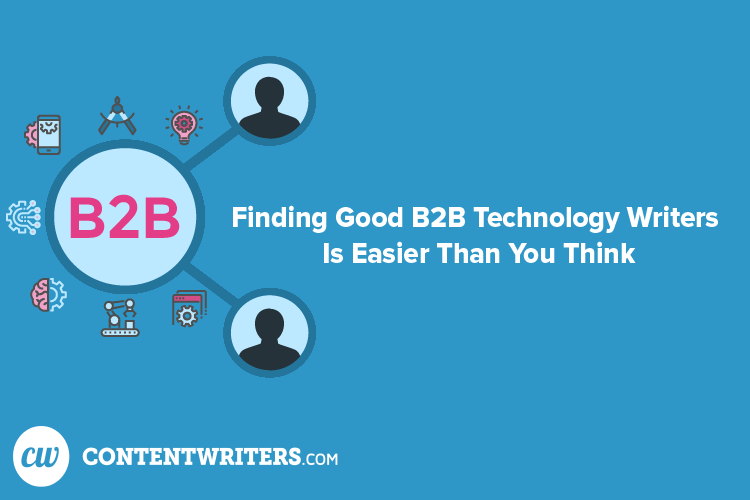 Finding Good B2B Technology Writers Is Easier Than You Think
A 2016 study revealed that more than half of B2B buyers want to read informative — not salesy — content before they commit to a purchase. Therefore, high quality, educational content should be a cornerstone of any B2B marketing plan.
But many companies don't have the budget for a dedicated B2B copywriter who is intimately familiar with their brand, products, or services. The common-sense solution is to outsource – but how do you find a B2B copywriter who can meet all of your needs?
If you are in a highly technical field, you might think it's nearly impossible to secure the services of a B2B copywriter who is both well versed in your niche and still affordable.
There's one thing those looking for a B2B copywriter often overlook: the writer you hire doesn't have to be a working expert in your niche; they need to be an expert at writing B2B copy. That's their niche.
Think of a kindergarten teacher. They teach language, math, science, and art – but they usually aren't math experts, linguists, scientists, or artists. Their expertise is breaking down these topics to make them relatable to a specific audience with unique needs: young children.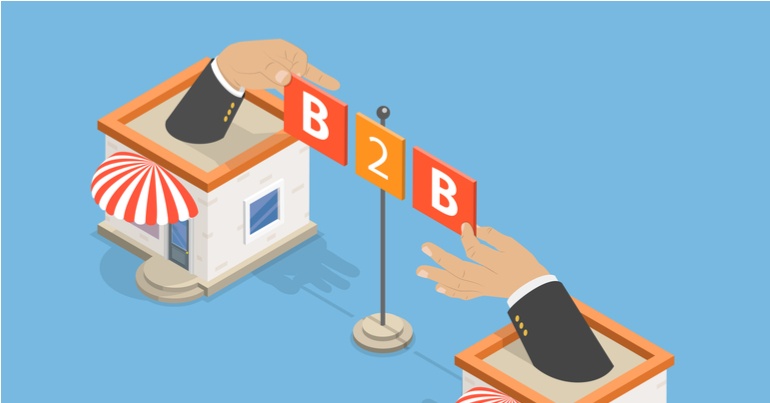 A B2B copywriter does the same thing. They know enough about a specific topic to explain it clearly to someone else who doesn't know anything about it, without having to be a hands-on expert. Their skill lies in their ability to absorb enough about a topic to speak on it at a level their audience can understand.
Ironically, this is why you shouldn't have just anyone in your company write the copy. They might be experts at your technology – but they aren't experts at explaining it to your audience(s). If those who can't do, teach, maybe it's because those who can't teach, do.
Now that you understand you probably don't need a B2B copywriter who moonlights as a web developer or architectural engineer, here are some tips for finding the writer who can take your company's marketing plan to the next level.
A degree of familiarity with "techspeak" is a benefit when writing for technology companies. When vetting copywriters, ask if they've ever written anything technical, such as a user manual or a how-to guide, or if they've ever taken a coding class or troubleshot a PC. Depending on your industry, a general acquaintance with your vertical's language is beneficial.
However, this shouldn't make or break the deal. Knowing the right words is a far cry from being able to put them together coherently and in a format appealing to readers. If you have a reliable B2B writer who is new to tech, it could well be worth the time and effort to train them. Once this writer is up to speed, your business will benefit from their ability to reach your audience(s)
Nearly three-fourths of B2B buyers say they engage with a company's blog before making a purchase, meaning that comprehensive coverage of the benefits of what you sell is key to conversion. Effective B2B marketing content turns prospects into leads and can answer their pressing questions, helping to seal the deal.
While your B2B copywriter doesn't need to be able to operate your laser cellulite reduction device, they do need to comprehend how it works so they can sing its praises accurately.
This is a unique situation where having a non-technical 'layperson' copywriter can be an unrecognized asset. The writer can put themselves in the shoes of a prospective buyer and ask the questions most likely to come up about your product or service.
Interview skills can also be a plus. Sometimes it's easier to sit down and do a quick chat with a subject matter expert or let your B2B tech writer remotely pick the brain of one of your lead product managers to get the answers they need. A phone or email interview can be used as fodder for one or even several pieces, each brimming with authority and authenticity.
A good B2B copywriter will be able to distill your technology into content your audience can digest. A great copywriter will be able to do it without "dumbing it down." The aim is not to turn a description of your tech into a 1st-grade storybook, but rather to highlight the aspects that matter to the buyer: why it is the best solution for their problem, and how it can help them achieve their own goals.
B2B buyers need a compelling reason to buy from you and not your competitor, which means your B2B copywriter must educate your audience on what you're offering to solve their problems/needs, but also on what makes a purchase from your company superior?
Authoritative blog posts are just one type of content. Look for a B2B copywriter who can effectively package information in a variety of ways – producing high level, compelling text for blogs, whitepapers, infographics, social media posts, press releases, and email copy for maximum impact.
A B2B writer who can adapt content from one source for all of these purposes is worth their weight in gold. You can give them information in the form of a case study or an interview, and breathe easy knowing they'll be able to create an entire campaign based on the raw material.
Not only can a prospective B2B copywriter(s) become a part of your company's marketing strategy, they can streamline your content production and help form a cohesive brand image that will attract discerning B2B buyers.
Your brand voice should be consistent at all times. This is another area where having a dedicated B2B copywriter on-call can benefit you. Your messaging can stay on point when you have one person handling all of your content, rather than farming it out randomly to different members of your team or private referrals for one-off tasks.
One of the first tasks you should consider having a B2B writer do is to create a style guide and brand book that shows each member of your marketing team the desired tone and messaging. This can be invaluable as a resource for their successors in the event they move on after a time (many B2B writers eventually are snapped up by larger companies who want them to run their in-house content strategy).
The B2B copywriter of your dreams creates amazing content that motivates your audience to choose your business as their technology provider. But do they also work well with you as a partner? If so, this combination will make for smoother sailing in delivering exceptional content.
It's important to note that good B2B copywriters know their skills are highly in demand and will likely have other clients on their roster. Laying out parameters for your working relationship should be a priority. If you routinely work nights and weekends, don't just assume they do, too.
Ask what kind of communication you can expect from them during a project, and express your preferences so you can agree on the mode of communication and acceptable working hours.
On their end, meeting deadlines is a must, and so is communicating if they don't have all the information they need to do their job effectively. On your end, your responsibility is to provide that information, to review delivered content promptly, and to pay cheerfully and on time for a job well done.


Freedom is an award-winning writer and marketer. In her current role as a B2B digital marketing specialist. Her writing has appeared in global publications including The Independent (UK), Huffington Post (USA), The Telegraph (UK), The Chicago Sun-Times, The Los Angeles Times, The Jerusalem Post, and more.