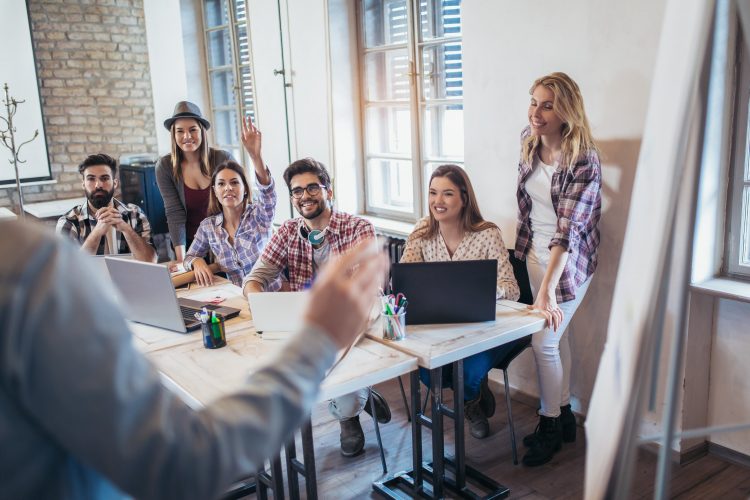 Creating an Employee Advocacy Program
It's not difficult to figure out by its title what an employee advocacy program is – the promotion of an organization or brand by its workforce. Employee advocacy programs are cropping up in both large and small business alike, and for similar reasons: social reach, engagement, and trust.
Your employees most likely already have social media profiles. And it's also likely that they are using some platforms that you don't. Consider this: if a company of 100 employees has 2,000 fans on its Facebook page, their reach is 2,000. Pew estimates that the average U.S. internet user has 338 friends on Facebook, giving those 100 employees a reach of 33,800. That's a potential 1,590 percent increase in that company's reach. Even if you run a much smaller business with 20 employees, you could increase your reach by 6,760 people.
Social Media Today reports that content shared by employees get eight times more engagement than content shared by official brand channels. Hewlett-Packard has an extensive employee advocacy program and cited that employee-shared content generated 11 times more clicks than their branded accounts.
Steps to Begin an Employee Advocacy Program
A happy workplace. In order for employee advocacy to work, it's vital that your staff are happy, feel appreciated, and believe in the brand. Otherwise, they will have no desire to participate.
Offer incentives that encourage employees to promote to the best of their abilities. Incentives could take the form of recognition, a day off, priority parking, or a gift card.
Provide training. Employees should be made aware of best practices as well as any social media policies regarding appropriate use and etiquette.
Provide content or examples of content. If you have a social media department, prepare visuals and posts for employees to either use outright or revise to suit their personal perspective. It's hard for your employees to source all the materials and language on their own.
Consider using an employee advocacy platform. HootSuite's Amplify and Bambu by Sprout Social are two of many to consider. They simplify content sharing and have the ability to create community amongst your employees. Employees can pick and choose, in a dedicated space, what resonates with them, making their posts more authentic.
Measure Success
The metrics that count are not complicated:
Reach. How many more eyes do you have viewing your content? The greater your reach, the more awareness you grow for your brand.
Engagement. Measure clicks, shares, likes, comments, and retweets. This will also help you learn what types of content people like receiving from employees. Break engagement levels down by social channel.
Business results. Are you generating more leads, sales, and inquiries?
Adding an employee advocacy program to your content marketing strategy is about more than sales. It is also an effective way to help build employee ownership and pride in your business, creating an environment where employees stay longer. It could also turn your company into one that is an attractive place to work, sending more qualified recruits your way when you're hiring.