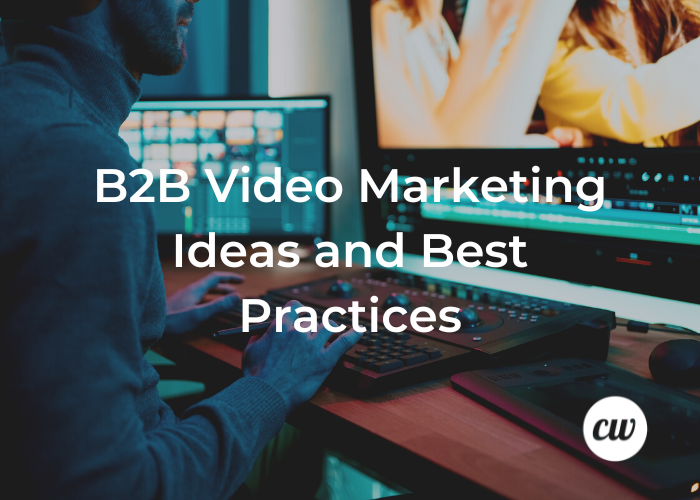 B2B Video Marketing Ideas and Best Practices
There are many ways for a business to reach out to potential customers and clients. One of the best ways is through video marketing. However, there are many different types of video marketing that businesses can create. This article will discuss some basics of B2B video marketing and what makes a good B2B video.
What Is a B2B Video?
B2B videos promote your business, product, or service to other businesses. Corporations or small businesses usually create B2B videos.
Creating a B2B video is a way to promote your product or service so customers will buy it. The most crucial element in creating a good B2B video is keeping the message straightforward so viewers can easily understand it.
8 B2B Video Marketing Ideas
Video marketing for B2B is gaining more and more popularity. But it is still challenging to create video content that will bring high-quality leads and business results. Here are the best practices for creating successful videos as a part of a B2B marketing strategy.
1. Customer Story or Video Testimonials
Customer stories or video testimonials are great examples of how your brand can be seen as an expert and provide credibility to your products and services.
Customer stories showcase the real-life experiences of customers using your product. This can help increase conversion rates, build trust between you and your audience, and make a more personal connection with your customers.
2. Product Review Videos
Making a video review of your product is an easy way to educate potential buyers on what you have to offer and why it will be valuable to them. Remember that assessments carry greater weight when accompanied by comments and context from creators, B2B influencers, and community members.
If you're a creator wishing to collaborate with other creators in your field, have them make a video explaining how they use your technology. As an alternative, ask them to share with their readers the benefits of your product.
You can get the same results by giving away a product in exchange for a video review or a live video on social media stories.
A B2B video like this spreads the word about your business and allows you to reach out to individuals unfamiliar with your brand.
3. Promotional Videos
Promotional videos are always a great way to showcase your company. These videos are short and to the point and can be used for different purposes. For example, you can use them to highlight unique products or services, or as a way of introducing yourself to those who may not know about your business.
Make sure that the video has an exciting storyline and includes relevant keywords in the title. Remember to make certain it is well-edited. Taking these steps will help you get more views on your platform and make it easier for people to find what they're looking for when they run a search for your type of product(s).
4. SEO Video Marketing
SEO videos are a great way to boost your search engine rankings. They create brand awareness, increase website traffic, and improve sales.
To make sure you're getting the most out of your SEO video marketing efforts, follow these guidelines:
Create short, relevant videos targeting viewers who are likely to be interested in your product or service.
Include keywords related to what you offer in both the title and the content of your video.
Use keywords throughout the video, including during scenes where no dialogue is being spoken.
Include live-action footage of people using your product or service to demonstrate its value through real-world use cases instead of just talking about it.
5. Video Ads
Video ads are great for gaining attention and creating a brand's story. Video ads are also a good way to drive conversions, which means getting people who have already been interested in your brand to go through the checkout process.
Video ads are perfect for promoting your products and services because they allow you to tell your story in a way that's hard to replicate with text or images alone. You can create an immersive experience that draws in users and makes them feel part of something bigger (than just another ad on their mobile screen).
6. Brand Videos
Brand videos are short films focusing on your company's mission and uniqueness. They're typically used to promote products or services, but you can use them to demonstrate your company's culture and values.
Brand videos are used by B2B companies to maintain their brand awareness and increase their customer base. In addition, they help you reach out to new customers who aren't aware of your brand.
7. Tutorials
Another great B2B video idea is to make short how-to videos that walk your audience through certain features or solutions. Include them in your product-focused blog posts when you talk about specific features.
When you have a collection of how-to videos, upload them to your knowledge base and share them with the customer service team.
Be sure to share these videos on social media. And you may be able to use them in your email marketing campaign, as well.
8. Social Media Videos
Social media videos are a great way to share your brand's story. Used creatively, these videos engage your audience and give an inside look at your company and product.
Social media videos are one of the most effective ways to connect with your customers. It's also a very cost-effective way to expand your reach. Social media platforms like Facebook, Twitter, Instagram, and YouTube provide the perfect platform for sharing content that helps people learn more about your products and services.
Best B2B Video Marketing Examples from Winning Brands
B2B marketing has changed dramatically over the years. Creating content that resonates with your enterprise partners is necessary to stay top of mind. Here's a list of the best B2B video marketing examples from winning brands.
Monday.com
The project management software makes customer success stories in video format. They then connect these to their text-based postings so visitors may enjoy the story in any format they prefer.
Zendesk
The Zendesk Morning Show is 20 minutes of live virtual broadcasts that include guests, provide information, and build community.
The company keeps in constant contact with its 170,000+ customers, allowing it to remain top of mind while also providing significant value.
Mailchimp
Mailchimp is a fantastic example of a company that successfully uses screen recording video. They create these videos with Vimeo Record to preview new features with their employees and customers. This prevents them from having to start yet another lengthy email thread.
Differences Between B2B Marketing Videos and Other Types of Marketing Videos
A B2B marketing video is more than just a sales pitch. It's a chance to connect with your audience personally, learn about their needs and challenges, and build trust in your brand. Here are some critical differences between B2B marketing videos and other types of videos:
The content of the video should be relevant to the audience – B2B companies can speak directly to the needs of their customers or clients by offering solutions that address their problems or fill in gaps in their knowledge base.
The video's tone should be friendly but professional – B2B companies must convey confidence without coming across as arrogant. The tone should be conversational while maintaining an authoritative presence that conveys both mastery and respect for your audience's time and attention.
B2B marketing videos should be between 15-20 minutes long – This allows viewers enough time to absorb all the information presented and make an informed decision about whether they want to buy from you.
How to Create Video Marketing Content
Creating your video marketing content is a process that requires patience and attention to detail. You must create the right message in the correct format, using the right words and images, at the right time and place. The following steps will help you get started:
Choose an idea or topic that is unique and meaningful to your business.
Identify the specific benefits of your product or service that your target audience will appreciate most by reviewing research data on buyer behavior, such as demographics, location, and spending habits.
Write down the main points you want to convey in your video marketing content (e.g., the benefits of your product or service).
Determine which types of videos will best express those points (e.g., testimonial videos vs. product demonstrations vs. case studies).
How to Get Started with B2B Video Marketing
In B2B, video marketing is more than just a promotional tool. It's a way to engage customers and prospects looking for more than a simple sales pitch. According to HubSpot research, 90% of marketers plan to use video content in the next 12 months, and 75% expect to increase their social media marketing spending on video in the same time frame.
So how do you start B2B video marketing? Here are some tips:
Use short videos that people can easily consume on their devices.
Make sure you incorporate clear call-to-action verbs so that viewers know what to do next after watching your video.
Use graphics instead of text, which will make your videos easier on the eyes and better for sharing.
How Effective is B2B Marketing Video?
A video is a powerful tool for selling, but more is needed than simply creating one and hoping for the best. You need to know how effective your campaign will be before you start allocating your budget. There are several ways you can measure the success of your B2B video marketing campaign:
The number of views on YouTube or Vimeo
The number of shares on social media platforms like Facebook, LinkedIn, and Twitter
The amount of revenue generated from ads placed in front of them
The number of leads generated from the video, e.g., email signups and phone calls
What Makes a Good B2B Video
A good B2B video should be engaging and informative. It should be easy to understand, well-organized, and targeted at your audience.
The message needs to be clear so people can easily see what you're trying to say. If the content is not explicit or doesn't fit into the " video category," then there's no point in creating an entire video just because you want more exposure on social media.
It's also essential to make sure that the video is entertaining. If it's not fun to watch, people won't share it. They certainly won't watch it repeatedly, which means they probably won't remember what you were trying to say in the first place.
B2B video marketing is an essential tool in modern online marketing strategies. With the growing popularity of video content and an infinite number of videos shared daily on social media, it's becoming more necessary to utilize videos to connect and build brand recognition. And with the right approach, you can create a B2B video that will attract your clients and get them excited about your brand.


Anthony is a writer with extensive experience in writing web content. He has contributed to a number of projects, including building pages for small businesses to writing for major publications.