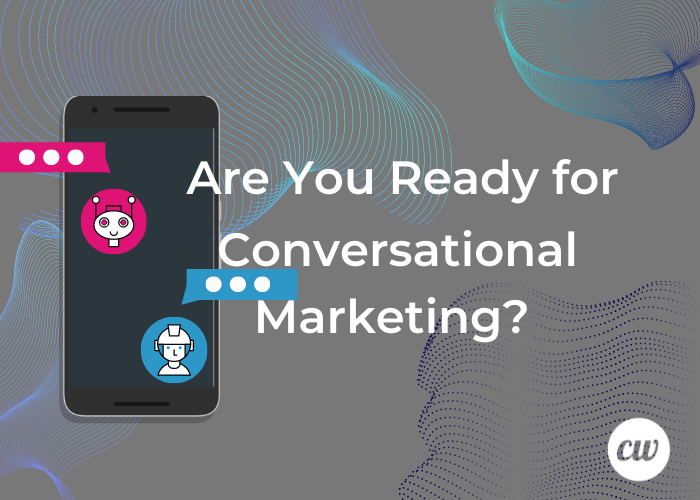 Are You Ready For Conversational Marketing?
In content marketing, engagement and conversion are critical goals. One emerging trend in 2021 to help brands meet these goals is conversational marketing. Conversational marketing provides a two-way conversation that involves prospects which means the more we can engage prospects, the more they are willing to behave in a way you desire.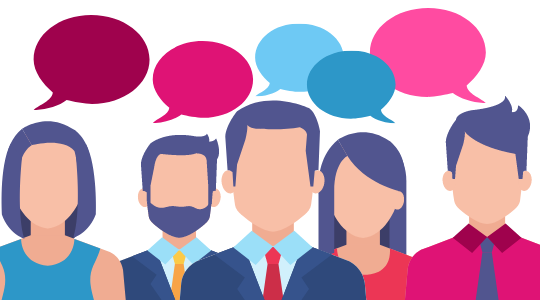 What Is Conversational Marketing?
Conversational marketing is marketing that talks and interacts with consumers. Live chat, chatbots, voice assistants, Facebook Messenger, and other forms of conversational artificial intelligence (AI) are all types of conversational marketing.
It's an asynchronous relationship in which conversations can occur whenever the customer engages with the brand, whether it's in real-time or in the middle of the night when consumers find themselves surfing.
Conversational marketing opportunities can be placed on websites, social media networks, paid advertisements, or even in physical stores. Thanks to all the developments in technology, communication between brands and consumer have become easier than ever before.
Benefits of Conversational Marketing
In an age when every brand is fighting for space in consumers' minds and hearts, conversational marketing presents many benefits to help you stand out and communicate directly with shoppers. This can now occur while they are in the midst of doing research and considering a purchase.
Insights: Conversations, whether live or with a bot, can reveal much about consumers and their needs and desires. This information then enables brands to better understand their audience and further craft marketing messages with increased relevance to them. By capturing, analyzing, and using this first-hand data, driving higher conversion rates becomes possible.
Personalization: Today's consumers not only want but expect a personalized experience when they are interacting with your brand. The data gained from consumers through conversational marketing allow brands to better create unique experiences for their shoppers tailored to niche audiences. These personalized experiences will not only increase sales but generate greater loyalty.
Consumer Relationships: Conversational marketing creates a two-way connection between your brand and your customers, enhancing your relationship with them. These stronger relationships offer more opportunities for cross-selling, gaining positive reviews, and increasing word of mouth.
Customer Service: Superior customer service can be one of a brand's strongest traits. It lets customers feel like you've got their back. It's a lot easier to chat with a bot or a live person than to keep scrolling and clicking to get answers about products. Sales and support go hand-in-hand to create a seamlessly positive eCommerce experience for consumers and increase their comfort and trust in your brand.
How To Make The Most Of Conversational Marketing
Conversational marketing takes advantage of meeting customers where they are already spending their time. WhatsApp and Facebook Messenger are two of the top apps where 85 percent of consumers spend their time. According to Facebook, these two apps had 1.5 billion and 1.3 billion active users, respectively.
Stats like these should signal content marketers toward creating conversational campaigns that utilize these communication vehicles. Informative, easy, and enjoyable is the strategy to employ. Through copywriting, visuals, and even emojis, you can give your conversations all of these traits. This is an opportunity to show your brand's personality in addition to taking care of business.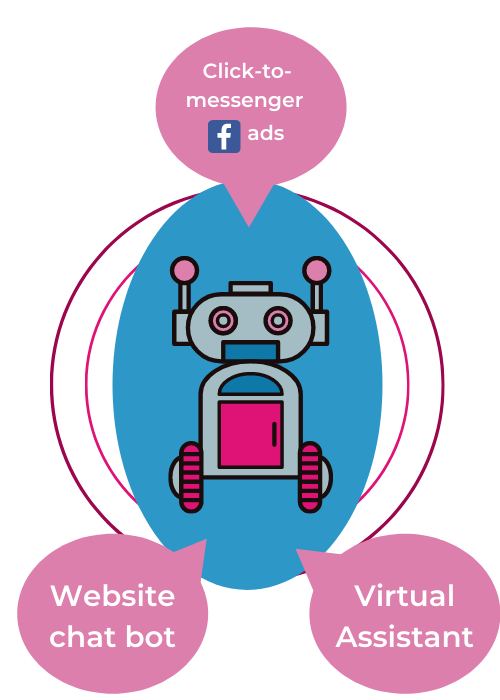 The key to conversational marketing success is to continue consumer-brand conversations across all marketing channels seamlessly.
Conversational Marketing Tactics
Click-to-Messenger Facebook Ads
Pointing consumers to Facebook's messenger app instead of a landing page is a simple way to begin. Ads still show in users' traditional Facebook newsfeed. From there, brands can either prompt a conversation by asking a question or respond to the question or comment initiated by the clicker. A simple CTA (call to action) can read, "Chat now to learn more."

Website Chat Bot
For ecommerce marketers, a chatbot is the primary way to converse with consumers. These bots are fairly sophisticated and evolve continuously. They can answer consumer product and service questions, help users perceive benefits, and can connect users who need more help to a live representative.

Virtual Assistant
Through an automated software application or platform, these assistants understand both natural language in either written or spoken form to answer consumer questions.
Successful Conversational Marketing Examples
The following brands have implemented conversational marketing that communicates how valued their users are:
Duolingo
Learning a new language can be difficult, especially if you have no one to practice with. Duolingo developed a bot as a language partner. It simulates conversations for learners that facilitate and accelerate learning and retention.

Sephora
Sephora has created an AI-powered virtual artist. Consumers upload a selfie and the bot then allows them to try on the makeup. The bot then helps consumers easily purchase those products they like best. The beauty of this is that it is fun to do.

National Geographic
In support of their launch of the series Genius which featured Albert Einstein, National Geographic added a messenger bot that answered in the voice of Albert Einstein. Needless to say, this was a hit for National Geographics science enthusiasts.
Are You Ready to Add Conversational Marketing To Your Content Marketing Mix?
Conversational marketing isn't just another tactic to consider for a future date. It's a necessity and one of the most talked-about trends in content marketing. Payment processing company, WorldPay, found in a survey that 81 percent of consumers who made a purchase through a retail chatbot made another purchase. With stats like that, every brand needs a strategy for deploying conversational marketing to remain competitive.


Deborah was the kid who would rather write book reports and essays than play ball during recess. Although she didn't score many points with her peers, it did lead to her career creating content for TV, radio, print and new media for companies as varied as Dooney& Bourke, Panera Breads, Visa, SUNY Ulster and Hudson Valley Federal Savings Bank.
She is also a principal of small packages – a digital design company, and past partner/marketing director of whatis.com, the world's foremost reference on information technology. And, her love of food enabled her to become a contributing editor of both Gourmet Retailer and Food Distribution Magazines.
Deborah has a bachelor degree in fine art from the Hartford Art School, University of Hartford and a masters in higher education administration from Stony Brook University. When she's not writing, her love of quilting, furry animals, friends, and family sustains her.