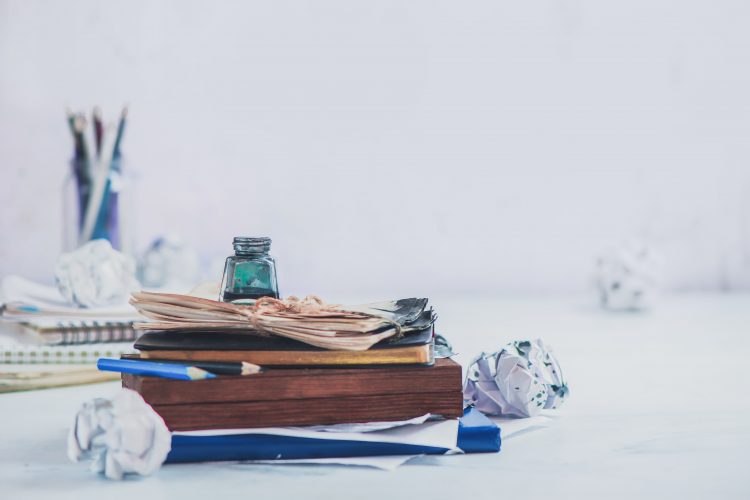 7 Online Portfolio Builders for Writers
Some of us remember a time when content writers used physical portfolios to showcase their work. They'd assemble hard copies of published writing samples (as in paper) into some kind of binder that they'd schlep along to interviews.
Today, whether you're an old pro or a bright-eyed recent graduate, you need a place to stash and easily retrieve your assets. An online portfolio is the answer.
Why You Need an E-portfolio
An online portfolio is a customizable tool that helps you market yourself, your skills, and your accomplishments. It establishes your credibility as a professional. And when you present yourself well, it shows potential clients that you can present them well, too.
Today there's really no reason not to have an e-portfolio. Lots of resources out there allow you to create one as snazzy as you are. Many are free. And you don't have to know a thing about back-end stuff like coding.
Ready to assemble your virtual brag book? Here are some of the free and inexpensive platforms your fellow writers like to use.
Contently
Contently has a free, super user-friendly portfolio builder geared specifically to journalists, designers, and other creative types. It can accommodate tons of content, and you even get your own URL.
Just set up a profile and upload links to your articles (or PDFs if there are no links). These stories can be rearranged as you like on a clean-looking display. You write the captions for the thumbnails—think SEO power—and if you don't like the photos that come with the article, you can upload your own.
Journo Portfolio
Journo Portfolio lets you organize content into "blocks" to showcase specific articles, blogs, "about me," social media threads, etc.—all optimized for desktop, phone, and tablet. Like Contently, you simply enter the URL and it grabs your article along with publication name, date, and image. It's highly customizable with lots of themes available. You get your own domain, and there's even a built-in analytics tool to keep track of your traffic.
Journo Portfolio's free version houses up to 10 articles and a domain of your own. Upgrade to Pro with unlimited pages and a variety of bells and whistles for a very reasonable $10.00/month. Various discount pricing plans are available.
Pressfolios
Another journalist-approved platform is Pressfolios, which not only gathers and organizes your work but saves a backup to the cloud as a PDF. That means your stories won't go away even if the host site vanishes. A Google Chrome extension lets you add content directly from your browser, while built in photo editing software gives you full control of the images you use.
You can try Pressfolios free for two weeks. Then chose either the "lite" or "pro" versions for $10.00 or $15.00/month, respectively.
Clippings.me
Clippings.me is like a teacher who really believes in you. Along with a free place to stash your stuff—including multimedia—you get professional tools like a guide to building a great portfolio, a directory of journalists, and job boards for journalists, copywriters, and content marketers.
The site is a back door to an online course, "Breaking Into Journalism," for which there's a fee, but there's no obligation. Pretty nice for a basic, easily set up, user-friendly platform.
Wix
Drag-and-droppers sing the praises of Wix, the website builder known for its sheer customizability and versatility. Wix offers a free CV template to which tech-challenged writers can add external links to writing projects.
Just a heads-up, though: when you click on the two links in that last sentence, you'll feel like you stumbled onto someone's actual portfolio. But the landing pages are, in fact, templates for you to personalize.
What about Squarespace and WordPress?
Did you know you can complement your WordPress blog with a separate portfolio featuring specially designed templates and themes? Same with Squarespace. You add and manage your projects just as you would a blog post, and there are thousands of ways to display them.
Pricing plans range from free on up for WordPress (they recommend the premium version for freelancers, currently $8.00/month). Squarespace is a bit steeper at $12.00-$16.00/month for a basic website.
Now it's time to get your assets organized. Strut your stuff and grow your clientele with an e-portfolio of your own.


Lisa is a word nerd who writes promotional, informational, and business collateral for clients around the world. Formerly the staff writer for Lincoln Center for the Performing Arts and promotion copywriter for New York Magazine, she has worked in television, higher ed, nonprofits, media relations, marketing, and other industries. She is also a freelance musician in the New York City area.