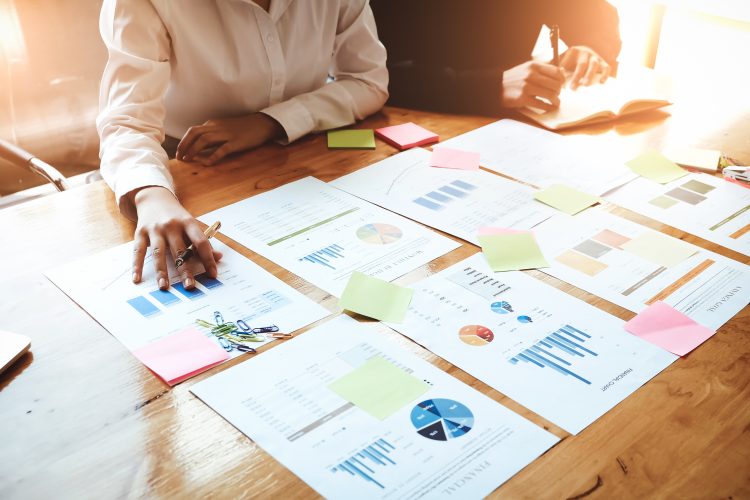 5 Steps That Ensure A Thorough Marketing Research Process
Even though your business is always evolving, there's one thing that will remain the same: the need to conduct marketing research.
There are many benefits of a thorough market research process, including but not limited to the following:
Identifying new opportunities
Keeping a pulse on your industry
Keeping an eye on your competitors
Gathering data to help you make more informed decisions
While many businesses – regardless of size or industry – understand the importance of marketing research, others don't focus too much time or effort on this. Instead, they simply hope for the best.
Not performing adequate research is a big mistake.
As a marketing professional, you can't afford to overlook the importance of conducting research. While it may not be the most intriguing part of your job, it's imperative to create a comprehensive strategy that puts you on the path to success.
If you're ready to take a walk through the marketing research process steps, you're in the right place. Here are five things you can do to take full advantage of this extremely vital piece of your marketing strategy and overall business plan.
It's good to get excited about marketing research, but you may soon find that you don't know where to start. This is typically a result of not defining the problem you're trying to solve or the opportunity staring you in the face.
To standardize the process, develop questions that allow you to easily define the problem or a specific opportunity. These three will get you in the right frame of mind:
What does your ideal customer look like?
What type of data can you use to pinpoint your problem or opportunity?
What will you do with the research once it's on your desk?
A thorough marketing research process starts with clearly defining your intentions. Without this, you'll lack organization, which can hold you back from reaching your goals.
Once you've defined your problem or opportunity, you know what type of data you're chasing. Now, it's time to take action.
The next step in the process is creating a research plan. This will outline the steps you will take to conduct the research. Let's dive into some of the more common techniques:
Face to face conversations: For example, if your target audience is retail shoppers, you can set up shop at a local shopping mall to connect with these people. You can verbally ask questions, or provide them with a written survey. Either way, it's a great way to personally connect with your audience.
Conduct an online survey: This is typically the most time efficient strategy, as it allows you to get your survey in front of a large group of people with a single click of your mouse. If you have a large email list of customers and/or prospects, an online survey may be the best place to start.
Examine your website analytics: This isn't likely to be the only technique you use, but you may be surprised at all the data you gather. For example, your Google Analytics account can provide information on where your visitors are from, the language they speak, the pages they visit, and when they visit your website, among a variety of other data.
It makes the most sense to collaborate with your marketing team, but don't hesitate to bring in employees from other departments. For instance, members of the sales and customer service teams may be able to share key insights that help you with the process.
It's easy to stump yourself during this step, but don't overthink the process. There are many ways to conduct market research, you simply need to find the strategy that works best for you, your business, and your audience.
On the surface, it's easy to believe you can handle this process without any help. And while you may be able to do a few things on your own, you'll soon realize that you're overwhelmed with all the details.
It's imperative to create a market research team before you get too deep into the process. There are many places to turn to for help, including employees of your company.
Depending on the approach you're taking, you may also be able to hire outside assistance. You could hire people to roam local shopping malls (see above) to conduct interviews with your audience, and you could hire an analytics professional to review your data and help you understand what you're seeing.
There's no point in conducting market research if you're not going to use the data to your advantage.
Once you gather all the information you need, turn your attention to analyzing the data. This is no easy task, so you may once again require the help of your team.
Here's something to remember: the most important points won't always jump off the page. Sure, some pieces of data may leap out at you, but others can be hidden. It's your job to dig through each data point, no matter how inconsequential it appears, in order to define its importance.
Tip: have more than one person analyze the same data, as no two people will draw the exact same conclusion.
If you find that you have all the data you need, you can move on after this step is complete. Conversely, if you don't have the appropriate information on hand, it's time to revisit the marketing research process. Don't sell yourself short now. If you need more data, go out and find it.
This may be the last of five steps, but it's when the fun really begins. Now is the time to take action. This is the part where you get to see all your hard work pay off.
Depending on your position, you may be responsible for creating an action plan, and you may also be responsible for reporting your findings to someone else, such as your CEO or CMO.
Rather than jump the gun by making immediate changes, create a list of three to five things you'd like to do with the data. This structure will keep you on track, all while ensuring that you don't make a decision that works against the data you've collected.
The way you put your results to use may not be the same as the next company. For example, you may look into hiring a content creation firm to boost your marketing plan, while another company finds that they need to focus on conversation rate optimization.
You have every intention of taking the right steps, but that doesn't mean you won't face any challenges along the way.
Sometimes it seems simple to conduct marketing research, examine the data, and implement a plan of action. Then there are those times when you'll run into one challenge after the next, thus slowing you down and adding stress to your life.
Fortunately, when you plan ahead for potential challenges, you can hedge them off before they become a problem.
Here are four challenges you may face when conducting and acting on market research:
No one wants to participate: This is the biggest challenge, as it can slow you to a grinding halt. If you run into this issue, it's time to get creative. Rather than send an email to your customer list, hit the street and see them in person. Rather than send snail mail, get on the phone to ask questions.
It's taking too long: There's never a good time to rush market research, but at the same time you want to complete the process in a timely manner. This issue is best solved by bringing additional help into the equation. Rather than do everything yourself, find at least one other person who can assist you. Even if it costs you money to do so, it's better than bogging yourself down and neglecting to make any real progress.
There's too much data: Yes, this is a challenge, but it's also a good thing. The more data you collect, the more you can learn about your audience, your business, and the steps to take. If you're overwhelmed with the amount of data at your fingertips, tackle one small section at a time.
You don't know how to implement the research: Market research is only as good as your plan of action. You must have a clear idea of how to implement the research, as this makes the entire process worthwhile. If you run into a roadblock, reach out to co-workers and industry consultants to help you lay out the next steps.
So, there you have it. While there is often more to the marketing research process than these five steps, you should now have a better idea of how to get started.
It's easy to give up at the first sign of a challenge, but you've come too far. There's no challenge so big that you can't overcome it, especially when it's for the betterment of your business.
So, when it's time to utilize outside resources, ContentWriters can join your team and help with the creation of content to boost your marketing plan, better understand your industry, and much more.


Chris B. is a freelance writer and digital marketing consultant based in Pittsburgh, PA. When he's not creating content, Chris enjoys watching sports, working in the yard, and spending time with his family.