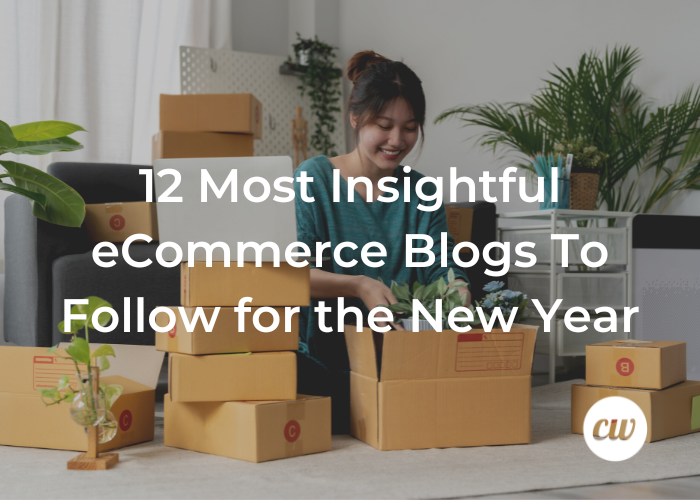 12 Most Insightful eCommerce Blogs To Follow for the New Year
Whether you are new to eCommerce, an old hand, or someone who services and supports eCommerce enterprises, there is always something new to learn. Keeping up with the latest trends and evolving technologies in managing inventory, sourcing, marketing, and customer service are just a few of the topics where continuing professional development from eCommerce blogs can mean the difference between failure and success.
Whether you run an eCommerce segment of a brick-and-mortar store or a fully online eCommerce store, blogs can help you grow your eCommerce endeavors and are a tremendous source of inspiration and education. Blogs by industry experts, eCommerce platforms, and marketing pros have become a standard way to use self-education to keep pace with the eCommerce world.
What Are eCommerce Blogs?
Whatis.com, a revered encyclopedia of technology terms, defines a blog as a "frequently updated web page used for personal commentary or business content. Blogs are often interactive and include sections at the bottom of individual blog posts where readers can leave comments." eCommerce blogs are simply those that specialize in eCommerce issues.
Most agree that Links.net, started by a student named Justin Hall in 1994 as a place for him to publish his own writing, was the first blog. The term "weblog," shortened to blog, became part of Internet vocabulary in 1997, and the following year, Open Diary was launched as the first blog platform. As blogging began to grow, WordPress came on the scene in 2003, and in 2004, Merriam-Webster named "blog" as the top word of the year, saying it was the most often looked-up word on its site during the previous twelve months.
As of 2022, there are 600 million blogs, 34% of them powered by WordPress. Finances Online reports that WordPress users create 70.5 million new posts each month and over 409 million people view over 21.1 billion pages per month. Blogging is alive and well!
Blogs as Professional Development
At the same time that blogs are a form of self-promotion, they are also an effective form of professional development no matter what the topic is. And one of the best benefits of learning from blogs is that we are learning from one another.
By following a few blogs, we not only learn from the author, but also from the discourse that comes from joining the conversation that follows in the comments.
In the study, "Going to the Blogs: Toward the Development of a Uses and Gratifications Measurement Scale for Blogs," author Barbara Kaye outlines some of the motivations for using blogs for learning.
Among the top ones are:
The convenience of following blogs
Their power as citizen media as opposed to traditional media
The ability to identify and join with a particular audience
Their ability to answer specific inquiries
Whatever your reason for following eCommerce blogs, it is satisfying to belong to a community of learners and share in the professional practices of a diverse group of participants.
You not only find answers to important business questions but gain insight from the exchange of ideas and opinions expressed. You begin to trust in the points of view of specific authorities with whom you share an affinity. Their blogs become built-in, go-to places when issues arise when there are new developments in a field, or when you need validation for your strategies and tactics.
eCommerce Blogs You'll Want to Follow
As new and easier eCommerce platforms emerge, it has become simpler for those with great products but less experience with technology to dive into the eCommerce world. However, you must learn to earn, and eCommerce blogs provide excellent sources of information and resources. Instead of sifting through a myriad of blogs to find those that deliver, check out these favorites.
eCommerce Platform Blogs
WooCommerce Blog


According to Statista, WooCommerce is the worldwide leader in eCommerce software, with 36.68% of the market share in 2022. For WooCommerce users, their blog offers helpful and easy-to-follow tips. WooCommerce has loads of extensions and the blog is an excellent source for instructions on how to best use those extensions.
They cover topics for beginners and experienced pros, with posts ranging from how to set up your eCommerce business to how to accept cryptocurrency.
Shopify Blog


While Shopify comes in second place to WooCommerce in market share, it is highly thought of as the best eCommerce platform. Shopify's blog focuses on marketing and has great content on how to start and manage an online store.
Industry Expert Blogs
Nerd Marketing Blog


An alum of both Harvard and Stanford, Drew Sanocki is the creator of the must-read blog, Nerd Marketing. Drew is perhaps best known for taking Karmaloop, a retail streetwear company, from bankruptcy to profitability in under one year. His blog is a compilation of his unique views on eCommerce.
eCommerce Fuel


eCommerce Fuel is an eCommerce blog like no other. You join a community of eCommerce store owners who help each other grow their enterprises. The blog was started by Andrew Youderian, a serial entrepreneur who has experience in bootstrapped stores and well-financed operations, as well as everything in between.
Neil Patel Blog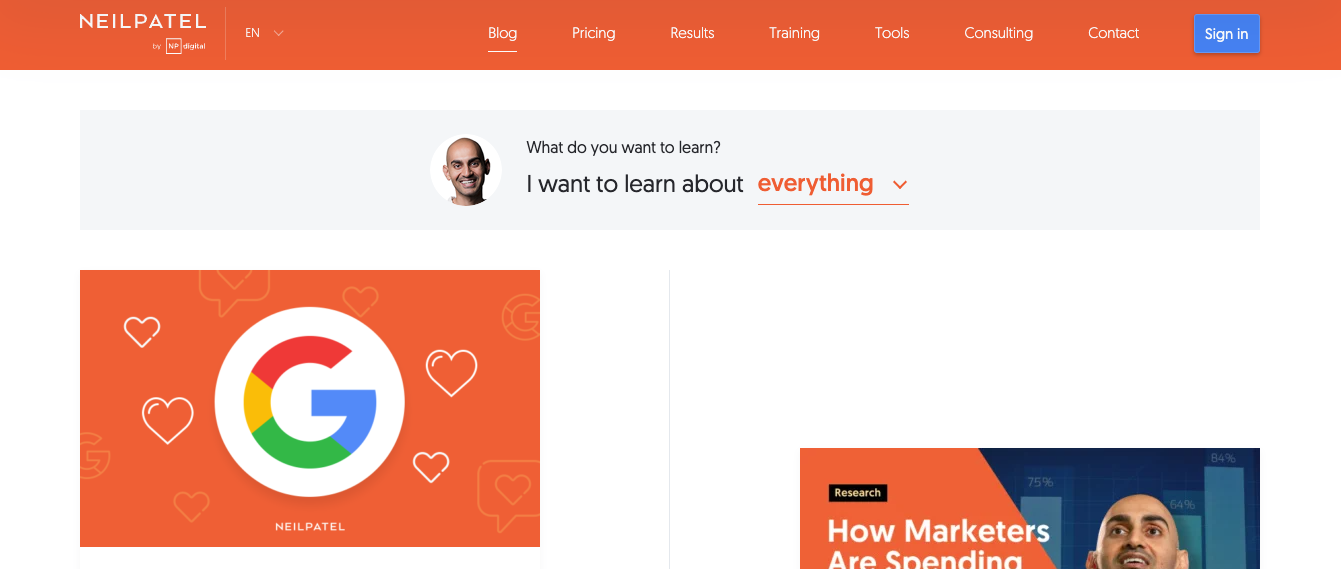 If you're in digital marketing, you know about Neil Patel. Named a Top Ten marketer by Forbes, there is much to learn from this expert. The Neil Patel Blog is an interesting mix of text posts, video posts, and podcasts.
If you're looking for advice from someone who has done it all and done it well, this is a great blog to follow. He is a master at getting traffic to websites.
For Beginners
eCommerce Lift


eCommerce Lift's focus is on helping beginners and small merchants learn about eCommerce and how to scale up their online stores. It's great for marketing basics, learning how to advertise, and handling customer service.
eCommerce CEO


The eCommerce CEO Blog makes starting an eCommerce store seem completely doable. They walk readers through every step by creating guides that simplify complicated concepts.
Some of their guides include a Step-by-Step Guide to Building Online Stores from Scratch and The Beginner's Guide to Customer Loyalty Programs.
The Better Lemonade Stand

Aimed at entrepreneurs in the early stages of eCommerce, The Better Lemonade Stand educates and supports those new to eCommerce by covering a wide variety of topics organized in sections called Build, Launch, and Grow.
This blog covers everything necessary for the success of eCommerce businesses including information on selling on Amazon and eBay, drop shipping, and online marketing. They also offer free video training webinars.
Specialized eCommerce Blogs
Printful Blog


Created for those in the print-on-demand world, Printful highlights customer success stories, marketing tips, and trends in many entrepreneurs' first forays into eCommerce.
OptinMonster Blog


Conversion rates are key to eCommerce success and OptinMonster delivers a huge array of optics to boost an eCommerce site's conversion rates. In addition to great tutorials, there are informative articles on A/B testing, lead generation, and more.
SKU Vault


Some say fulfillment is one of the hardest parts of running an eCommerce business. When improving your warehouse and inventory practices are key, SKU Vault is the place to go for saving time and money as well as improving efficiency.
ContentWriters Blog


If you're reading this post, you've already found ContentWriters. Since blogging is all about content, ContentWriters is a prime place to keep up with this ever-changing world. From digital marketing to social media to SEO, this blog will help you write better content and keep you inspired. The ContentWriters blog has an eCommerce section where insightful information can be found on eCommerce platforms, high-quality writing, marketing strategies, and more. You can also easily access other sections covering blogging, social media, or SEO – all content marketing topics of importance to eCommerce enterprises as well.
Start Your Own eCommerce Blog?
Have you noticed how many of these blogs have been started by eCommerce experts who have founded and run successful eCommerce companies or by those who offer eCommerce products and services? That's because blogs are a great marketing tool for your own eCommerce endeavor.
Blogs offer an opportunity to talk about your products and services while contributing to your SEO as well. Every time you publish a new blog post, you're adding fresh content, which Google likes. It's also a chance to use those keywords that you'd like to rank highly for.
It's clear to people around the world that blogs are here to stay. Readership numbers have proven that enthusiasm for this form of content has only grown since that first blog in 1994. Evolving technology has made it simpler for those with expertise in specific topic areas to create blogs without needing to be an expert in web design or development.
What is vital is that you have something to say – a point of view that others can benefit from. And that you are willing to invest the time and energy it takes to establish your blog. For those who do decide to make that leap into eCommerce blogging, the benefits can be both professionally and personally rewarding.


Deborah was the kid who would rather write book reports and essays than play ball during recess. Although she didn't score many points with her peers, it did lead to her career creating content for TV, radio, print and new media for companies as varied as Dooney& Bourke, Panera Breads, Visa, SUNY Ulster and Hudson Valley Federal Savings Bank.
She is also a principal of small packages – a digital design company, and past partner/marketing director of whatis.com, the world's foremost reference on information technology. And, her love of food enabled her to become a contributing editor of both Gourmet Retailer and Food Distribution Magazines.
Deborah has a bachelor degree in fine art from the Hartford Art School, University of Hartford and a masters in higher education administration from Stony Brook University. When she's not writing, her love of quilting, furry animals, friends, and family sustains her.